Русская Торговая Организация, ООО,

RU
Циндао, CN
Russian state grain company Russian Trade Organization offers DDGS (corn bard feed dry) with delivery in China in terms DAP / CIF in the following characteristics: moisture-8% protein-28-32% Non
Русская Торговая Организация, ООО,

RU
Циндао, CN
Russian state grain company Russian Trade Organization offers Corn Gluten (corn gluten meal) with delivery in China in terms DAP / CIF in the following characteristics: moisture - 12% max protein -
В радиусе 550 км от Циндао
Лидапищеконцетраты, ОАО,

BY

,

550 км
Пекин, CN
Open Joint Stock Company offers you to consider the op-portunity of your assistance in sales of our production. Our enterprise is dealing with the foodstuffs. The enterprise produces over 100
La Encina Capital, SL,

ES

,

550 км
Пекин, CN
Vegetable oils produced in Russia and Ukraine - sunflower, corn, palma, soybean, rapeseed, olive (Spain, Greece).
Солнечные семена, ООО,

BY

,

550 км
Пекин, CN
Куплю:
Maltodextrin potato or corn 1000 MT in year
Смарт Агро Инвест, ООО,

UA

,

550 км
Пекин, CN
In our capacity as Trading, LLC «Smart Agro Invest» in Ukraine seeks to service quality care and production customers seeking trust end responsibility. We work directly with farmers owners, grain
Кловер Груп, ООО,

UA

,

550 км
Пекин, CN
We sell cereal crops: wheat, corn, barley, millet, wheat, soybeans (soy), sunflower. There is also flour, oil, and other agricultural products. Large quantities. We will provide more detailed
Русская Торговая Организация, ООО,

RU
Маньчжурия, CN
The russian grain company Russian Trade Organization / RTO offers maize according to GOST of Russia on the terms CIF / DAP China on the following characteristics: grain
Тезаурус, ООО,

RU
Гуанчжоу, CN
Thesaurus LLC offers wholesale quantities of: wheat/buckweat/corn flour for industrial bakery, for cakes etc. sunflower oil, olive oil, soybean oil, cereals, flakes and many other goods. We are
Новые объявления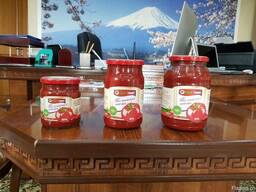 Томатная паста, Пекин.
6.20 ¥ /г 6.20 ¥ /шт оптом
Камень эксклюзив, Пекин.
1 500 ¥ /шт 1 500 ¥ /шт оптом
Продаем Дизельное топливо., Пекин.
Халва, козинак, батончики, Пекин.
×
×
×